As you may now, betfair are offering on paper odds which are provided without bookmakers edge of specific percentage. They claim to have best odds on the market. At first glance that is true. But the odds you see are shown without the commission you should pay if you win. In most cases this is 5% of your winnings. In some countries is even more up to 6.5%.
Here you can see an example of the reality:
the match is Spain – Czech Republic from EURO 2016. You ca see that shown odds in betfair are slightly better compared to the odds offered by Pinnacle. But those betfair odds are without deducted commission of 5%.
Betfair odds: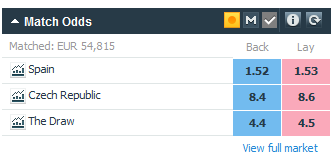 Pinnacle odds:

In the table below you can see the real odds you get from both bookmakers. Now you can see that the pinnacle odds are better in reality.
| Team | Pinnacle | Betfair Real Odds |
| --- | --- | --- |
| Spain | 1.495 | 1.494 |
| Draw | 4.390 | 4.230 |
| Czech Republic | 8.100 | 8.030 |
Even more, maybe some of you know, but I believe most of you dont know, betfair has premium charges if you win big and if you are a long term winner. Those charges are around 40% to 60% of your winnings! (Yes! thats right 60%!) Betfair does not want you to win in long term. If you play for fun, actually doesnt mater where you bet, but if you want to be a winner, betfair is definitely the wrong place.
On the other hand pinnacle is the ONLY bookmaker in the world who will NOT limit you if you win. They will not limit you if you make arbitrages. They will not limit you NO MATTER WHAT.
They do not have premium or any other charges and offers the real BEST odds in the industry.
If you still does not have account in Pinnacle I suggest you to open one immediately and to start using it, if you want to be profitable: